HEIDEROOSJES * BIOGRAPHY * 1989-2019
Which Dutch band:
Survived 30 years of rock 'n roll without any lineup changes?
won a Dutch Grammy Award for a single the radio wouldn't play?
had an album in the charts for more than half a year?
did nearly 1500 shows in throughout Europe, the United States, Japan and South Africa?
Made a song together with the mayor of Maastricht about legalizing weed?
Toured with punk bands like The Offspring, The UK Subs and The Misfits but also played with the classical Metropole Orchestra?
Got their sarcastic song "Jerry Rules" played in the world famous TV show 'Jerry Springer'?
Had Motörhead legend Lemmy Killmister doing a spoken intro on one of their songs?
Made a song in 2004 that got partly ripped by popdiva Lady Gaga in 2011?
The only correct answer to these questions is: HEIDEROOSJES (pronounced; Hi-The-Rose-Yes).
When Heideroosjes played a show at the famous SouthBySouthwest festival in Texas, USA, The Austin Chronicle wrote in a raving review; "They burn more calories and write better songs than the standard-issue American punk band, and they blew the first two bands right out the front door. Now there's a lesson in how to rock".
Touring the US was not something many believed in when four outcast teens started a punk band in 1989. In the small Dutch village they lived in punkrock was "something of the seventies" and the mainstream audience hadn't heard of Green Day or Nirvana yet. But teenage boredom feeds creativity and the following years Heideroosjes evolved into a four headed tour monster that released ten studio albums. Singing in Dutch but also in English and German. "Punkrock is about crossing borders and I write in the language that best fits the topic I wanna sing about" says singer/guitarist Marco Roelofs.
In the late nineties American punklabel EPITAPH signed the band and Heideroosjes ended up making 5 albums for the label which also hosts similar acts like Rancid, Propaghandi and Bad Religion.
In 2012 Heideroosjes stopped touring. "We've lived in a van together for more than half our lives. It's time for fresh air" the bandmembers explained.
Now, seven years later, Heideroosjes is back, in the same line up. To celebrate it's 30 years ago the band started. "No pressure, just fun" says Marco.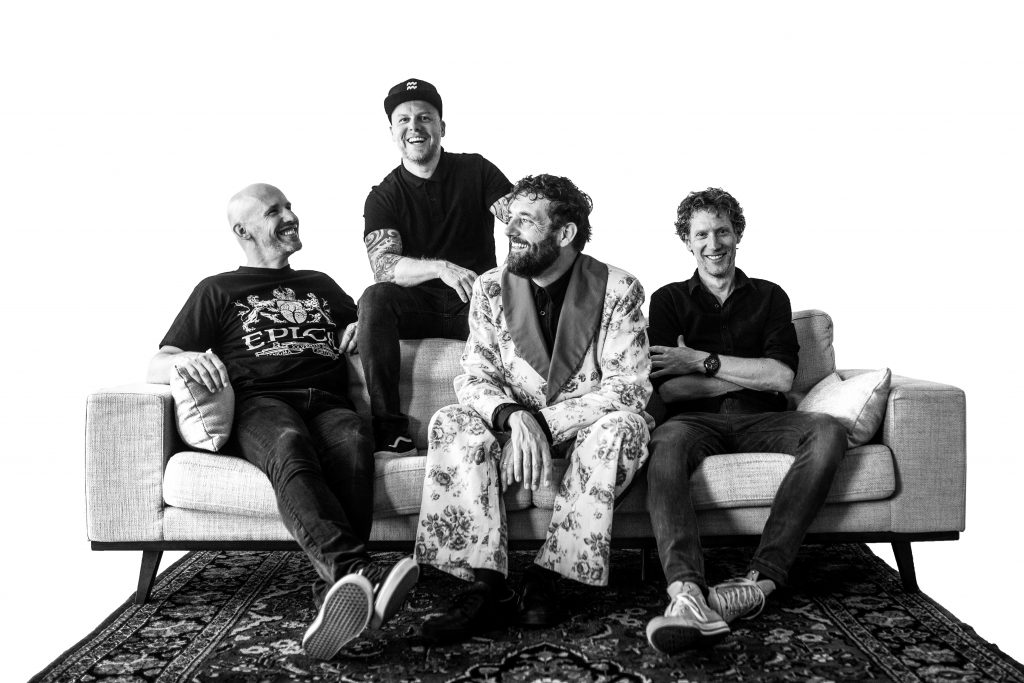 Frank Kleuskens: guitar/vox * Marco Roelofs: vox/guitar * Fred Houben: Bass * Igor Hobus: Drums
PUNK-O-GRAPY
Albums
# Noisy Fairytales ('92) (Fairytale Records)
# Choice for a lost generation ('94) (Fairytale Records)
# Fifi ('96) Play It Again Sam (PIAS)
# Kung Fu ('97) Play It Again Sam (PIAS)
# Smile….you're dying! ('98) (verzamel) (Epitaph Records)
# Schizo ('99) (Epitaph Records)
# Fast Forward ('01) (Epitaph Records)
# It's a life (live-album)('02) (Epitaph Records)
# SINema ('04) (Epitaph Records)
# Royal to the Bone ('06) (verzamel) (I Scream Records)
# Chapter Eight, the Golden State ('07) (PIAS/Sonic)
# Ode & Tribute ('09) (PIAS)
# Cease-Fire ('11) (PIAS)
HEIDEROOSJES PROMO